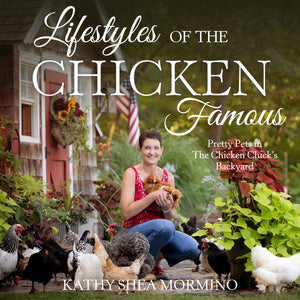 Signed Book: Lifestyles of the Chicken Famous
Regular price $16.99 Sale
For over a decade Kathy Shea Mormino has shared her unique perspective on backyard chicken keeping with countless fans worldwide through her award-winning Facebook page and blog, The Chicken Chick, (The-Chicken-Chick.com) growing organically into the the largest and most engaged backyard chicken-keeping community on Facebook.

In sharing her daily adventures, Kathy has brought her chickens' individual personalities to life in front of the lens, making them household names including: Freida the White Silkie and mother-of-the-year for seven years running; Blaze, the dashing, Black Copper Marans rooster; and frizzled Bantam Cochin, Rachel, the habitually broody flock diva.

Now, by popular demand, Kathy offers this gorgeous photographic tribute to her flock in a volume worthy of center stage on any coffee table. Inside, her beautifully reproduced full-color imagery showcases her meticulously landscaped chicken village and, of course, her spectacular chickens, including unusual, rare, endangered, and otherwise breathtaking breeds and their eggs.
Product details

Paperback: 144 pages
Full-color photos by the author throughout
Publisher: Voyageur Press
Language: English
ISBN-10: 0760359334
ISBN-13: 978-0760359334
Dimensions: ~8 x 8 inches